GeoGuard is an innovative system for geodetic and environmental monitoring of structures, ground and natural hazards, mainly based on
an accurate GNSS positioning.
WHAT IS GEOGUARD?
GeoGuard includes hardware and activities specifically designed for the monitoring of the displacements and deformations of structures and ground on selected points, mainly based on accurate price-competitive GNSS positioning. GeoGuard allows to automatically and continuously compute the position of points on the structures or territory with an accuracy of mm on a daily basis and a few mm on hourly basis.
GeoGuard can be delivered as an end-to-end service or as an on-premises application, able to provide all the activities and specialized skills from the choice of monitoring points to the supply of highly customized solutions.
In particular, the GeoGuard service can include:
a preliminary inspection activity of the site to be monitored, in order to design the most appropriate solution;
the deployment of the sensing infrastructure, composed by the GeoGuard Monitoring Units, according to the site characteristics;
the connectivity setup between the sensing infrastructure and the GeoGuard Cloud;
the GeoGuard Cloud, where data are collected and processed. Positioning and management data are delivered to the customer information system;
unexpected point movements detection and alert notification via SMS, E-mail or IM applications;
an online help desk service, to support the customer in the day-by-day operations;
professional services: to design, build and manage customized solutions according to the customer business needs.
DEFORMATION MONITORING
By monitoring the absolute and relative displacements of carefully selected key points, it is possible to detect, quantify and characterize the various kinds of motions undergone by the structure. The monitoring update rate can be set from hourly to daily, depending on the needed level of precision.
SITE-SPECIFIC ANALYSES
GeoGuard's proprietary technology allows reaching high-precision monitoring results also in challenging environments. Tailored analysis tools allow to highlight and characterize site-specific and even element-specific motions within the general displacements undergone by the monitored structure.
MULTI-SENSOR HUB
Our GNSS monitoring stations are designed to accommodate additional sensors via analog and digital interfaces, allowing to log and transmit their measurements together with GNSS ones. The GNSS-detected deformations can thus be correlated with other sensors measurements, providing a more comprehensive picture of the status of the monitored structure.
GEOGUARD ARCHITECTURE
GeoGuard architecture is constituted of two main components:
GEOGUARD MONITORING UNIT
A Geoguard Monitoring Unit (GMU) is a newly designed remote terminal unit, mainly based on price-competitive Global Navigation Satellite System (GNSS) sensor, specifically designed to operate in challenging environments. It can be powered in any location supporting power grid or solar power. GeoGuard Cloud can remotely manages the units via two-way communication.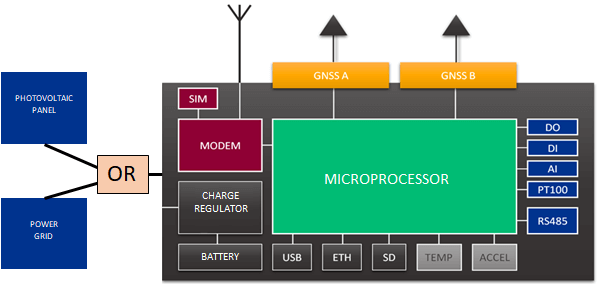 Up to two GNSS antennas can be connected to the GMU (max 50 mt). In this way it is possible to minimize the deployment of receivers in case of nearby points. The GMU can be used as a hub to collect data from other sensors (inclinometers, soil probes, weather stations, …). GeoGuard Monitoring Units can create an autonomous local network, linked to the GeoGuard Cloud through a single point of external connection.
The GMU unit contains:
Processing Module: it includes microprocessor unit and local storage unit,
Communication Module: it includes the communication features with Ethernet, GSM/3G LTE and M2M radio connections,
Positioning Module: it features up to two single (L1C/A, L1OF, B1I, E1B/C) and or double (L1C/A, L2C, L1OF, L2OF, E1B/C, E5b, B1I, B2I) GNSS* receivers (GPS/QZSS, GLONASS, GALILEO, BeiDou constellations),
Sensing Module: it features digital, analog I/O and an industry standard communication bus to connect and monitor any sensor the specific application might require,
Power Module: it provides power supply by alternate current (AC) and direct current (DC) from different sources, including photovoltaic panels.
GEOGUARD CLOUD
The core of the GeoGuard service receives and processes the data from the sensing infrastructure and provides point position time series, displacement and deformation information to the customer.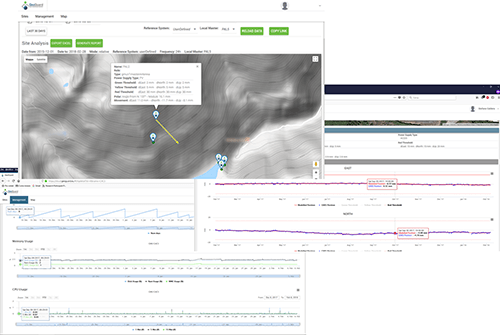 It consists of the following functions:
Sensing infrastructure interface: it receives the GNSS positioning/sensor raw data and the unit metadata from the sensing infrastructure,
Remote GMU management: it provides all the information needed to manage the service, including administrative and service level agreement data,
Data processing: it is tailored to best exploit the measurements of price-competitive GNSS receivers and is devoted to perform statistical and quality analyses of input observations and output results (detection of trends and sudden changes in position and sensors time series), in order to issue early warnings to the customer. It exploits an advanced software developed by GReD; it can also use the Bernese GPS Software 5.2 as processing engine,
End user service interface: it exposes the information provided by the GeoGuard service in two different modes:

a WEB Application enabling users to exploit the GeoGuard service functionalities according to the used needs,
a REST API allowing fast and easy integration of GeoGuard services into external management information systems.
GEOGUARD APPLICATIONS

STRUCTURES
Precise and timely measurements of the infrastructure movements
and deformations ca be performed. In particular for:
transportation & travel (bridges, airports, harbors, railways, …),
water distribution (water tanks, pipelines, …),
energy (dams for hydro power plants, penstoks, towers for high voltage, wind farms, …),
domestic security for military purpose (radars, radio systems, …),
telecommunication infrastructure (data, cellular and broadcasting network towers),
oil & gas transportation and storage,
cultural heritage and large stadiums preservation.
NATURAL HAZARDS
Precise and timely measurements can be performed to analyse movements and predict dangerous risks. In particular for:
landslides,
subsidence & uplift due to natural phenomena or oil & gas production and storage,
river floods,
extreme weather events.
WHY GNSS?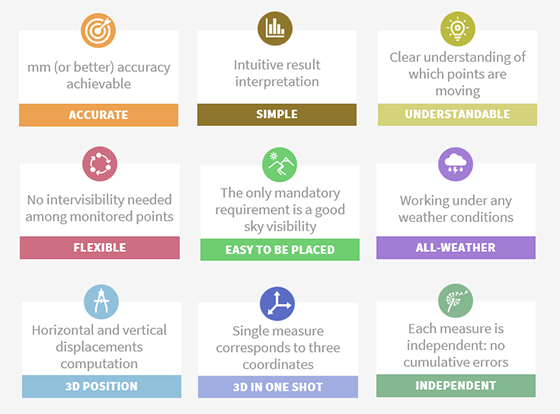 WHY GEOGUARD?